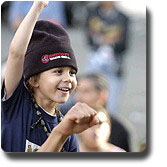 Progressive Good Tidings of 2007 (in Thai)
Along with political challenges, the past year offered some hopeful advances– many of which came just in last few weeks.
— Mark Engler is a writer based in Philadelphia, an editorial board member at Dissent, and co-author of "This Is An Uprising: How Nonviolent Revolt Is Shaping the Twenty-first Century" (Nation Books). He can be reached via the website www.DemocracyUprising.com.