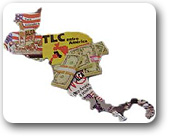 CAFTA – am besten stillschweigend beerdigen
Wie konnte es geschehen, dass sich so unterschiedliche Kräfte gegen CAFTA verbünden? Die Antwort lautet: CAFTA ist schlecht – schlecht für die Menschen in Zentralamerika, schlecht für die Menschen in den USA.
— Mark Engler is a writer based in Philadelphia, an editorial board member at Dissent, and co-author of "This Is An Uprising: How Nonviolent Revolt Is Shaping the Twenty-first Century" (Nation Books). He can be reached via the website www.DemocracyUprising.com.